Greater Miami CVB announced Travel & Tourism Records
mihost

[b]Greater Miami CVB announced Travel & Tourism Records[/b]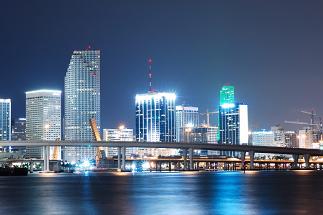 The Greater Miami Convention & Visitors Bureau (GMCVB) announced that the destination's Travel & Tourism Industry is on target for another record year including welcoming more than 14.1 million overnight visitors.
The GMCVB announced a record $22.3 billion in visitor expenditures, representing a 2.3 percent increase over the previous year. Revenue Per Available Room (RevPar) set a new record with double digit growth of 10 percent during the same period. Accommodations and Food Service Jobs reached a record 122,000, representing a 4 percent increase over the previous year and 44 months of consecutive job increases.
[b]»Destination Miami» Strategic Plan[/b]
After five town-hall meetings, hundreds of stakeholder interviews, surveying through a dedicated website (DestinationMiami.org) and in-depth study of the Travel & tourism industry for the destination, five strategic recommendations make up part of the Destination Miami strategic plan:
[b]Miami Beach Convention Center & Headquarter Hotel:[/b] The GMCVB reiterated its commitment to supporting the plan for a state-of-the-art Miami Beach Convention Center and headquarter hotel in order to remain competitive in attracting more meetings and conventions and making way for increased economic impact. A scale model of the project was on display at the meeting.
[b]Improve Taxi Cab Experience:[/b] A taxi cab ride is often the first customer service experience a tourist encounters during their visit. The Strategic Plan confirmed that lack of regulation and technology offerings such as credit card processing ability hinder the visitor experience. Six ordinances have been recommended by Miami-Dade County Commissioners and are supported by the GMCVB: regulation enforcement, credit card processing availability at airport and sea port, ambassador cab program and establishing digital dispatch programs.
[b]Overall Customer Service & Experience:[/b] The customer service experience begins the moment a visitor arrives in the destination and as such the GMCVB is committed to leading efforts to improve that experience by creating enhanced special training programs for the hospitality industry. The GMCVB will begin by expanding the Miami Begins with Me (MBWM) program, an industry and consumer campaign educating the local community that «Tourism Is Everybody's Business.» The GMCVB also announced that discussions are under way to create a new Customer Service Academy at Miami International Airport, as well as build on the success of the MIA Ambassador program.
[b]Marketing – Expand International Sales and Marketing Efforts & Target Niches Domestically:[/b] Greater Miami and the Beaches continues to be a leading global gateway and welcomes the highest percentage of international visitors of any other destination in the country. In support of the Strategic Plan findings, the GMCVB will continue to expand its global network with dedicated marketing offices in major and emerging global markets. Increased international efforts are also made possible through leveraged relationships with key industry organizations such as BrandUSA and Visit Florida. On the domestic front, efforts will be geared on US feeder markets and strong focus on Cultural and Heritage tourism. A new Heritage neighborhood publication is in the works to provide visitors with rich and historic insight into Miami's diverse and culturally dense neighborhoods.
[b]Expand Digital Sales and Marketing Programs:[/b] Consumer behavior and decision-making continues to be greatly influenced by digital media platforms, especially when making travel decisions. The GMCVB is embarking on digital innovation through several of its marketing platforms including advertising, public relations and industry/trade relations. As part of this important recommendation, the GMCVB unveiled the new destination website MiamiandBeaches.com.