New direct flight between Liberia and La Fortuna with Nature Air
mihost

[b]New direct flight between Liberia and La Fortuna with Nature Air[/b]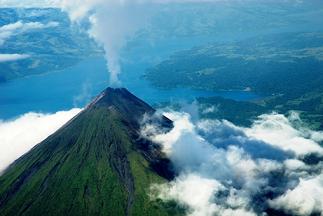 If you've ever traversed the curvy roads from Liberia to Arenal, or tried to fit in as many Costa Rica destinations as possible into a one-week itinerary, you will understand why the local tourism industry is rejoicing. The team at Nature Air has just added its third direct route out of the Liberia International Airport for the fall season – this time to La Fortuna, Costa Rica.
With international arrivals into the Liberia Airport having increased more than 10 percent last year, we have decided to grow our offering for the Guancaste client with three weekly round trip flights to the home of the Arenal volcano – a route previously limited to ground transportation.
Nature Air has increased its focus on Liberia connections to coincide with the newly constructed airport's greater capacity, and the continued addition of international arrivals from North and South America. The same client that opts to fly to Liberia to cut out transportation logistics to get to the beach is the client that we hope to attract with direct connections from Liberia to Tamarindo, Arenal and San Jose.
"Visitors have changed the dynamic of their travels and want to travel to more destinations," says Orvieto Morales, commercial director for Nature Air. "That's the general sentiment we are seeing in our surveys, so this represents a great opportunity to satisfy the demand."
[b]The Great Costa Rica Tourism Shift[/b]
As the tourism industry watches the impact of the recently enlarged Liberia International Airport on visitor behavior, there has been fear that arriving visitors will spend their entire vacation in one location instead of moving around to discover the rest of Costa Rica. San Jose has always been the country's main transportation hub with plentiful options to be whisked away out of the city via all forms of transportation. While day tours exist from the Guanacaste beaches to cultural and ecological destinations like Nicaragua and Arenal, the road conditions are unpredictable and travelers can end up spending more than half their day on the road.
"The new Liberia-Arenal route is for those visitors that want to extend their Costa Rica experience outside of Guanacaste, without losing time in transit," says Morales. "Our partners in travel express that their clients want to see and do more, but when they realize how long the ground transportation lasts, they often change their minds."
Nature Air is already working with strategic alliances in the region to create the perfect two night trips to Arenal, leaving travelers with sufficient time on the ground to truly enjoy the unique eco and adventure destination. The 30-minute flight will also offer travelers an amazing preview of the colossal volcano from the air through their aircraft's panoramic windows before arrival.
The route will begin Nov. 28, 2012 with departures on Mondays, Wednesdays and Fridays at 7 a.m. from Liberia to La Fortuna, returning at 7:40 a.m. from La Fortuna to Liberia. One way prices start at $109 USD (with all taxes included).
In addition to the new Liberia to La Fortuna, Nature Air also offers flights from Liberia to Tamarindo and Liberia to San Jose. For more information and for detailed flight schedules, visit www.natureair.com.