Disney and partners break ground on Shanghai Disney Resort
mihost
[b]Disney and partners break ground on Shanghai Disney Resort[/b]
-First Disney theme park to be built in mainland China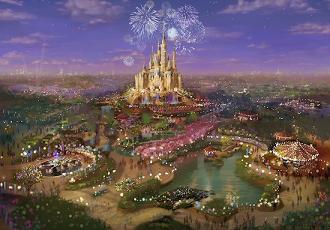 The Walt Disney Company and Shanghai Shendi Group, its joint venture partner in China, have broken ground on the Shanghai Disney Resort following approval from the Chinese central government in Beijing. Both companies marked the start of construction on the first Disney resort in mainland China at a groundbreaking ceremony held earlier today.
"Today marks a significant milestone in the history of The Walt Disney Company," said Robert A. Iger, President and CEO of The Walt Disney Company. "Our Shanghai resort will be a world-class family vacation destination that combines classic Disney characters and storytelling with the uniqueness and beauty of China. Working with our Chinese partners, the Shanghai Disney Resort will be both authentically Disney and distinctly Chinese."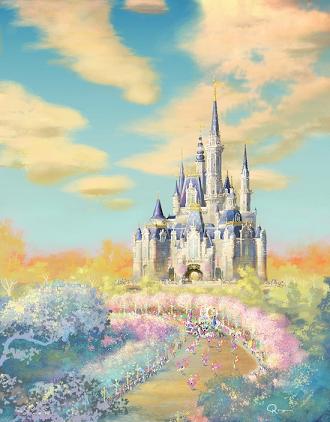 "We're incredibly excited to build a Disney resort in Shanghai, one of the world's most vibrant cities," said Thomas O. Staggs, Chairman of Walt Disney Parks and Resorts. "We are hard at work designing Shanghai Disneyland, which when complete will be a special place where guests of all ages will discover a world of imagination, creativity, adventure and thrills."
Today's groundbreaking ceremony paid homage to the culture and people of China. Traditional Chinese drum music, a female soloist singing in Mandarin, a 50-voice Shanghai children's choir and Mickey Mouse dressed in a traditional Chinese costume were on hand to mark this special occasion. Following the entertainment and remarks, Iger and Staggs were joined by Shanghai Party Secretary Yu Zhengsheng and Shanghai Mayor Han Zheng to officially break ground on the project.
The new Shanghai Disney Resort is slated to open in approximately five years.
The Shanghai Disney Resort will be home to Shanghai Disneyland, a Magic Kingdom-style park that will blend classic Disney storytelling and characters with all-new attractions and experiences tailored specifically for the people of China. The park will feature several themed lands complete with exciting, iconic Disney attractions and experiences. At the heart of the park will be an interactive Disney castle that is truly an attraction unto itself with entertainment, dining and performance experiences that will be unique to Shanghai Disneyland. The park will also contain other large-scale entertainment venues, indoor and out, that can be used for various purposes throughout the year.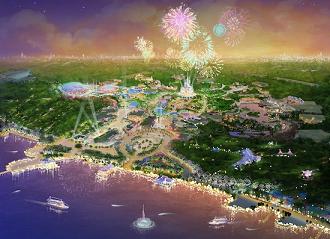 A beautiful, 11 acre (46,130 square meter) green space at the center of the theme park will differentiate Shanghai Disneyland and reinforce the themes of sustainability and nature that will be integrated throughout the park. The space will also be a place where friends and family can enjoy local cultural celebrations and customs together.
On Opening Day, the Shanghai Disney Resort will be located on a 963 acre (3.9 square kilometer) site in Pudong, Shanghai, with additional room to expand in the future. At opening, the resort will include Shanghai Disneyland, two themed hotels, a large retail, dining and entertainment venue, recreational facilities, a lake and associated parking and transportation hubs.
There will be an initial investment in the project of approximately 24.5 billion yuan (US$3.7 billion) to build the theme park and an additional 4.5 billion yuan (US$0.7 billion) to build the other aspects of the resort, including the hotels and the retail, dining and entertainment area. The investment amounts will be split between Disney and the Shanghai Shendi Group with Disney holding 43% of the shares of the owner companies and the Shanghai Shendi Group holding the remaining 57%. Financing will be proportional to ownership. In addition, a joint venture management company will be formed with Disney having a 70% stake and Shanghai Shendi Group having a 30% stake. The management company will be responsible for creating, developing and operating the resort.
[b]About Shanghai Shendi Group[/b]
Shanghai Shendi (Group) Co., Ltd. is a 100% state-owned, joint venture investment holding company formed by three sponsors – Shanghai Lujiazui (Group) Co., Ltd., Shanghai Radio, Film and Television Development Co., Ltd., and Jinjiang International Group Holding Company. Shanghai Shendi (Group) Co., Ltd. is involved in project investment, construction, and operation through two full subsidiaries: Shanghai Shendi Tourism and Resort Development Co., Ltd. and Shanghai Shendi Construction Co., Ltd.
[b]About The Walt Disney Company China[/b]
The Walt Disney Company (NYSE:DIS), together with its subsidiaries and affiliates, is a diversified international family entertainment enterprise with five business segments and is a Dow 30 company with revenues of nearly $38 billion in its most recently reported fiscal year. Disney's first animation screened in China in the 1930s and today our long association continues with offices in Beijing, Shanghai and Guangzhou with over 1000 employees. The Company has a broad range of businesses including publishing, broadcast, mobile, web, retail and its English language program, Disney English, which launched in 2008. Nearly 24 hours of Disney television programming is now available in China every week, reaching 300-360 million people each month. In September 2005, Disney opened its doors to its first theme park in China, Hong Kong Disneyland.
[b]About Walt Disney Parks and Resorts[/b]
Walt Disney Parks and Resorts are where dreams come true. More than 50 years ago, Walt Disney created a new kind of entertainment families could experience together, immersed in detailed atmospheres and vibrant storytelling. His vision now includes a collection of five of the world's leading family vacation destinations – Disneyland Resort, Anaheim, Calif.; Walt Disney World Resort, Lake Buena Vista, Fla.; Tokyo Disney Resort, Urayasu, Chiba, Japan; Disneyland Paris, Marne-la-Vallée, France; and Hong Kong Disneyland Resort, located on Lantau Island. In addition, Walt Disney Parks and Resorts includes the world-class Disney Cruise Line; Disney Vacation Club; Adventures by Disney, a guided group vacation experience to some of the world's most popular destinations; and Walt Disney Imagineering, which creates and designs all Disney parks, resorts and attractions.