Universal Studios Hollywood fast forwards into next-generation entertainment with "King Kong 360 3-D"
mihost

[b]Universal Studios Hollywood fast forwards into next-generation entertainment with "King Kong 360 3-D" created by Peter Jackson, world's largest, most intense 3-D experience and introduction of four acres of film production sets on the Universal backlot following completion of largest construction project in Hollywood history[/b]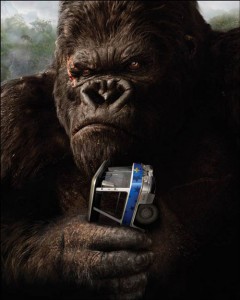 Universal City, California – Universal Studios Hollywood SM, renowned for its cutting edge theme park rides and famed Studio Tour offering behind the scenes access of a working Hollywood movie and television studio, has completed a new phase of development with the introduction of the world's largest and most intense 3D experience, "King Kong 360 3-D" Created by Peter Jackson, and the opening of four acres of new film production sets, accessible to Studio Tour guests, following the largest construction project in Hollywood history.
"King Kong 360 3-D" Created by Peter Jackson will make its much-anticipated debut this summer as a signature attraction on the world famous, behind-the-scenes Studio Tour. "King Kong 360 3-D" will feature visceral state-of-the-art special effects with all-new 3-D visual media to deliver an incomparable, next-generation theme park experience. Studio Tour guests will be transported to Skull Island where they will find themselves catapulted into the middle of a terrifying struggle between fearsome giant dinosaurs and "the eighth wonder of the world" – King Kong.
More than four acres of the newly rebuilt New York Street backlot locations will reopen this summer. A celebrated Hollywood landmark, the backlot has been the setting of countless commercials, television shows and feature films. The newly built production facility will consists of 13 city blocks of buildings and offer Studio Tour guests a front row look at Hollywood moviemaking.
Studio Tour guests will recognize some of the studio's famous production locations including the "War of the Worlds" airplane crash set; "Desperate Housewives" Wisteria Lane; the Psycho House-Bates Motel and the popular Western, European and Mexican Streets. The Studio Tour trams also now feature flat-screen Hi Definition monitors and digital playback systems that can be customized by Studio Tour Guides to instantly select material from several hundreds of clips and further enhance visitors' behind-the-scenes experience of a working studio environment.
Universal Studios Hollywood will also introduce guests to a new generation of movie making special effects in the interactive attraction, "Special Effects Stage," also opening this summer. This new multi-media attraction will demonstrate many of the entertainment industry's greatest movie making illusions from Hollywood's early years to its sophisticated, meteoric expansion into the
digital age, showcasing how techniques such as Computer Generated Imagery (CGI), Stop-Motion, Motion Capture and Green Screen Chromakey are achieved.
The recently introduced ExperienceHollywood.com travel website, powered by Universal Studios Hollywood, was designed to take the guesswork out of where to go and what to see when planning a dream vacation to Hollywood, California and Universal Studios Hollywood. The site features valuable information, suggested itineraries and insider tips on iconic Hollywood experiences to help visitors navigate local places of interest. With editorial content written by prize-winning travel writer and former Los Angeles Times Travel Editor, Rosemary McClure, ExperienceHollywood.com highlights classic restaurants, transportation options, shopping must-visits, luxury spas and noteworthy historical landmarks to provide an all-inclusive blueprint for maximizing a memorable Hollywood trip.
Universal Studios Hollywood, The Entertainment Capital of L.A.SM, features a plethora of movie and television based rides and attractions, including "The Simpsons Ride TM," the "Revenge of the Mummy SM —The Ride" indoor roller coaster, "Jurassic Park® – The Ride," and the world-famous, behind-the-scenes "Studio Tour," which showcases an exclusive sneak peek of the world's largest working film and TV production facility.
Universal Studios Hollywood, The Entertainment Capital of L.A., is a unit of Universal Parks & Resorts, a division of NBC Universal. NBC Universal is one of the world's leading media and entertainment companies in the development, production, marketing of entertainment, news, and information to a global audience. Formed in May of 2004 through the combining of NBC and Vivendi Universal Entertainment, NBC Universal owns and operates a valuable portfolio of news and entertainment networks, a premier motion picture company, significant television production operations, a leading television stations group, and world-renowned theme parks. NBC Universal is 80% owned by General Electric, with 20% controlled by Vivendi.