Chief Executive Officer of Delta Air Lines, Richard Anderson, has been recognized by industry trade magazine «Airline Business»
mihost

[b]Chief Executive Officer of Delta Air Lines, Richard Anderson, has been recognized by industry trade magazine «Airline Business»[/b]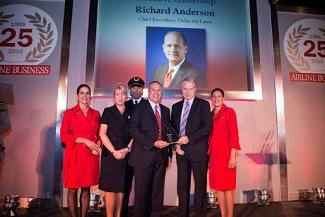 Delta Air Lines' (NYSE: DAL) Chief Executive Officer Richard Anderson, has been recognized by industry trade magazine «Airline Business» and global executive search firm Spencer Stuart with the 2010 Airline Strategy Award for Executive Leadership for his efforts to successfully merge Delta and Northwest Airlines.
«The scale of the merger and skill required for this merger has been incomparable,» said Mark Pilling, editor of Airline Business. «Delta has so far executed a near-textbook merger that included getting labor buy-in from the start – that was a massively significant step.»
«Delta's swift and smooth merger integration took a great deal of hard work, planning and focus,» said Anderson in a recorded acceptance played last night at a gala dinner in London. «We couldn't have succeeded if not for Delta people. I'm honored tonight to accept the Executive Leadership Award on behalf of the more than 70,000 Delta people around the globe who made our merger a success.»
Four Delta employees, along with Perry Cantarutti, Delta's senior vice president of Europe, Middle East and Africa, were at the event to accept the award. Representing Delta employees worldwide were Jill Gosling, an Airport Customer Service agent, Flight Attendant Julie Alexander-Nixon, Flight Attendant Lisa Cohen and First Officer Jerrad Boren. With the company's financial results announcement scheduled in Atlanta today, Anderson was unable to accept the award in person.
Airline Strategy Award winners are chosen by an independent panel of industry experts chaired by the Airline Business Editor and facilitated by Spencer Stuart. Judges include Sir Rod Eddington, non-executive chairman for Australia and New Zealand at JP Morgan and former CEO of British Airways; Jeffrey Katz, former president and chief executive of Swissair and founding chairman and chief executive of Orbitz; Professor Rigas Doganis, author of several books on air transport; Peter Harbison, managing director of the Centre for Asia Pacific Aviation; Joe Leonard, former chairman and chief executive officer of AirTran airways; and Chris Tarry, one of the most highly rated aviation analysts in the London market.
Delta closed its merger with Northwest Airlines in October 2008. Within 18 months the airline introduced a combined frequent flyer program, created consistent branding at airports worldwide, issued Delta uniforms to all customer-facing employees and integrated reservations systems, making every flight a Delta flight and every customer a Delta customer. The airline achieved its single operating certificate in December 2009.
Delta Air Lines serves more than 160 million customers each year. With its unsurpassed global network, Delta and the Delta Connection carriers offer service to 369 destinations in 67 countries on six continents. Headquartered in Atlanta, Delta employs more than 70,000 employees worldwide and operates a mainline fleet of more than 700 aircraft. A founding member of the SkyTeam global alliance, Delta participates in the industry's leading trans-Atlantic joint venture with Air France KLM and Alitalia. Including its worldwide alliance partners, Delta offers customers more than 13,000 daily flights, with hubs in Amsterdam, Atlanta, Cincinnati, Detroit, Memphis, Minneapolis-St. Paul, New York-JFK, Paris-Charles de Gaulle, Salt Lake City and Tokyo-Narita. The airline's service includes the SkyMiles frequent flier program, the world's largest airline loyalty program; the award-winning BusinessElite service; and more than 45 Delta Sky Clubs in airports worldwide. Customers can check in for flights, print boarding passes, check bags and review flight status at delta.com.